| | | |
| --- | --- | --- |
| | Wedensday, 7 January 2009 | ISSUE 3 |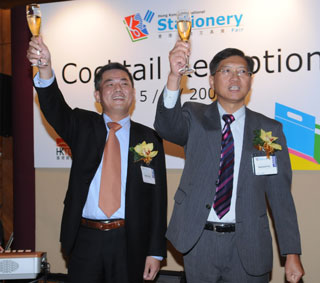 Stationery Networking Reception

Some prominent members of the international stationery fair were entertained at a cocktail reception in Port Café on Monday night. Representing the co-organisers of the Hong Kong International Stationery Fair, Raymond Yip, assistant executive director of HKTDC, and Hubert Duh, executive director of Messe Frankfurt, led the guests in a toast to continued success.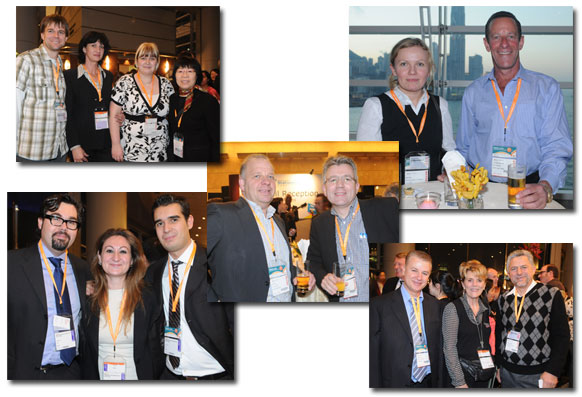 Hear What Exhibitors Say

"We have been attending this fair for about 15 years, showing our magic products. This fair is always very good for us – 2008 was our best year ever at the show, and this year is looking good, too. We have seen potential buyers from many European countries, the US, Canada, Australia and the Middle East."
Jack H. Monshouwer, President & CEO, Hanky Panky Toys Thailand, Limited, Thailand

"We have been exhibiting here for four years as the bulk of our Nu Design label collection revolves around stationery items such as agendas, notebooks, pens and pen cases and here we can meet very focused stationery buyers. We have met buyers from all over the world this week, including Australia, the US, UK, Turkey and Japan. This fair always attracts a lot of Japanese buyers. I am confident that relationships will develop as a result."
Christine Ma, Manager, Creative Premium Company Limited, Hong Kong

"The timing of the fair was perfect for us. This fair is the biggest in Asia and one of the biggest in the world. We've already met potential buyers from different markets, including Israel, New Zealand, Malaysia and South Africa."
Siva Subramaniam, Director, Mindstrat Puzzles, PTE Ltd, Singapore

"For me the Hong Kong Toys & Games Fair is so important, that I simply cannot afford to miss it".
Arne Lauwers, President, Lauwers Games, Belgium

"We like to take part in the Hong Kong International Stationery Fair because our products are very appropriate to this market and the buyers at this event are specialised. Visitors to our booth this year have mainly come from Europe. We do find new buyers here, but it also gives us the opportunity to keep in contact with our existing buyers."
Sirisopar Chairiwcharoen, Assistant Marketing Manager, Nara Factory Co., Ltd., Thailand



Hear What Buyers Say

"We are a wholesale company selling about 70 different brands, including several from Hong Kong companies that we found at our previous visit to this fair. I have come back for the second time to keep in touch with our suppliers as well as to find some new ones offering products that are completely different, so that we can bring new ideas to our market. Already I have located about five companies with interesting items. My main goal is to find educational toys, particularly science-related, as well as accessories for dolls and action figures. The fair is huge – it is one of the most important and I can find everything I need here. The layout and the services of the fair are good." Alexey Volkov, Buyer, Citytoys Company, Russia

"Erste is one of the biggest banks in Central Europe. I have come here for the first time because we want to explore the possibility of sourcing products direct from suppliers. These include corporate promotional items and stationery products. I've seen lots of things that I like, including calendars that we can use as gifts for customers."
Nikoletta Kovacs, Sourcing Specialist, Central Purchasing, Erste Bank RT, Hungary

"We've been coming to this fair for more than 10 years - it is one of the biggest in the world and we can meet many suppliers, including those from the Chinese mainland, here. We are looking for anything we can print on and customise. We've already seen some interesting items, such as puzzles, which we can turn into souvenirs of Singapore by using photographs of the city. This fair is very impressive and the layout gets better every year."
Jeffrey Tan, Director, Ace Marketing Services Pte Ltd, Singapore

"This is the first time I have visited this fair - the main reason for coming is that around 20 percent of our existing suppliers are located in the Chinese mainland, so we can meet them here and see their new lines all at the same time as well as make contact with new factories."
Tatsumi Kuwata, Managing Director, Sunstar Stationery Co., Ltd., Japan



News Gathering

Yesterday morning the overseas journalists attending the fairs had a chance to meet with some of the exhibitors as well as the fair organisers and industry officials. This was an opportunity to exchange industry news and views from different markets.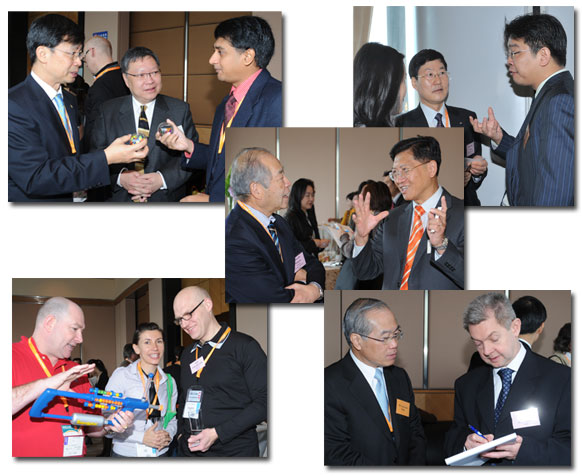 What's On - 7 January
See What the World Has to Say About Asia's No.1 Toys Fair

Each year the HKTDC creates an intensive marketing campaign targeting buyers worldwide. We publicise the fair through our comprehensive network of offices around the globe to ensure that serious buyers from all sectors of the industry are invited to this key industry event. Take a look at the promotional board at Hall 1A, 1C, Expo Drive, and Mezzanine 1 for more details.


Fair Opening Hours
| | | |
| --- | --- | --- |
| Fair Dates | Opening Hours | Buyer Registration Hours |
| 7 January (Wed) | 9:30am-6:30pm | 9am-6pm |
| 8 January (Thur) | 9:30am-5pm | 9am-4:30pm |
Free Magazines

Don't forget to collect a FREE copy of the fairs' official magazines at the Buyer Registration Counter or Buyers' Lounge.





hktdc.com Customised Sourcing Service


Now you can locate the right products you need by getting a list of relevant exhibitors with booth numbers and product photos at the fair. Look for this friendly sign.



Enquiry Contact

Customer Service Line: (852) 1830 668










Rebecca Tse
Manager, Marketing Communications
Exhibitions Department